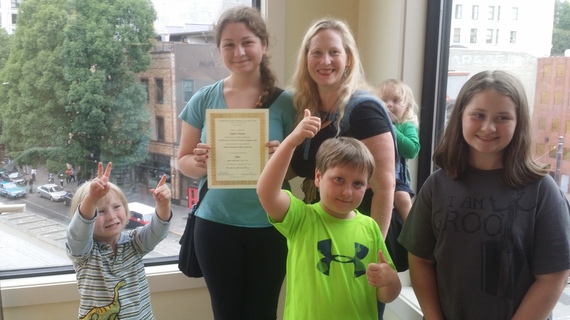 Whoever coined the phrase, "glass ceiling" isn't a mom to five, a host, chef, food blogger and columnist.
Another life ago, I inhabited Corporate America.
And, I love Hilary, she's wicked smart, a fighter, proven herself to be able to "put 18 million cracks in the glass ceiling" but she ain't me.
15 years ago I didn't "opt-out." I made a choice, to stay at home mom, but I never stopped pursuing my dreams.
A choice which has required more than just to "lean in", but also the ability to lean across, lean up, lean down and every which way.
Today, I yearn for more than "buzz words" to inspire women, for myself and my young daughters.
As a result, I don't read a lot of biographies written by women. When I'm looking for changelings to inspire me toward greatness, it doesn't matter the sex, I go for the story, which means I usually gravitate toward entrepreneurs and most of them are men.