"HEY, YOU GUYS!" I shout Rita Moreno style above the clanking bottles at the bottom of my sagging grocery bag. "Chocolate milk from Twin Brook Creamery!"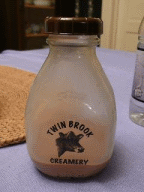 The quaint glass pints with the image of Bessy reminded me of a simpler time when friendly milk men delivered wholesome milk that kids gulped straight from the quart.
A time before a host of funky chemicals necessitated scouring labels for words like GMO's, Rbst, high fructose corn syrup, saccharin and search for assurances from purveyors like Twin Brook Creamery that their cows were happy, healthy and roaming free.
Twin Brook Creamery is a local, dairy farm that offers chocolate, regular white milk and cream — it's available at limited locations that aren't convenient for me to visit with my four kids on a regular basis. So when I do I stock up.
The kids herd into the kitchen and it isn't long before rich chocolate milk clings to their upper lips like outlaw moo-staches from a spaghetti western.
"Mom, how come you never buy the white milk?" My eldest daughter Sophie asked.