The other day this popped onto my Facebook screen with the message: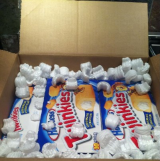 JUST got this package from FED EX.
"SURPRISE!" Screamed the wife.
Was I surprised that the demise of the iconic Twinkie had caused my friend, a chef and connoisseur of fine dining, to go on a Twinkie binge?
Growing up in the '70s and '80s eating Twinkies as a lunch-time snack was just as much a part of "normal" childhood as my kids BPA-free lunch box is today.
And, the truth is, when I was a kid, Twinkies kinda saved my life.
Around 1979 my freshly divorced mom told my sister and me that we were moving from Seattle to Santa Barbara, California. There, we would begin our "new" life at an egalitarian commune as vegans.
At seven I had no concept as to what "egalitarian commune" or "vegan" meant other than Dad wasn't coming along.
At the Polarity Commune, it took one meal for my sister and me to get the gist of our new situation: being vegans in an egalitarian commune was like being banished to Mars. And, these Martians believed that Twinkies, Wonderbread, Skippy Peanut Butter and all the other processed foods we had grown up eating were toxic.
But the worst thing of those first few weeks at the commune was lunch in the public school cafeteria.
We were directed to a "special" table with the other non-assimilated commune kids who pulled out their eggplant sandwiches on bread that had the consistency of bark. My sister and I sat stewing in our self-imposed hunger strike. It was torture watching the other kids casually eating their bologna sandwiches and Twinkies.
Fortune smiles upon plucky kids who answer her call and it didn't take long for my sister and me to suss out a local neighborhood corner store — filled to the gills with "toxic treats."
We scrounged up change, which isn't easy when you live in a place where the governing philosophy is to share everything. But on the glorious mornings when we had enough money, my sister and I splintered off from the commune kids before school. At the corner store we would each buy a package of Twinkies and tuck them inside our lunch bags.
In the cafeteria, while the other commune kids ate hummus, cucumber and spinach sandwiches, my sister and I were delicately opening the seams of the plastic wrapper. I loved sucking the creamy filling from the center, pushing it through the three holes on the bottom of the sponge, scraping the soft residue from the cake left on the white cardboard paper.
I've had some pretty amazing food experiences since I was seven years old… But I can honestly say that I've never savored anything so completely as those Twinkies.
After nine months in the communal kitchen, my sister and I learned that there was no such thing as convenience foods or television. So we spent a lot of time in the kitchen cooking together as one big "family." And the "Martians," weren't so strange after all. They were talented cooks that taught us that food could taste incredible in a different way than junk food: that filled us up and tasted good.
And then, just as abruptly as we arrived, we left the commune. I was happy to leave, but to everyone's surprise, my sister and I had become part Martian. We had gotten used to eating eggplant lasagna and actually learned to like it, along with many of the other dishes.
But I never completely lost the taste for the junk food I grew up with.
Today, with four kids of my own, I've come to understand that my mom was ahead of her time. I respect what she was trying to accomplish by joining an egalitarian vegan commune: a simpler, healthier lifestyle.
I try to incorporate a balanced approach to these life lessons with my family: cooking together as a family with fresh ingredients and also, that it's not bad to indulge in treats, and if you can cook a healthier version yourself — all the better!
Which is why my new favorite cookbook by Portland-based author Lara Ferroni,Real Snack's: Make your favorite childhood treats without all the junk.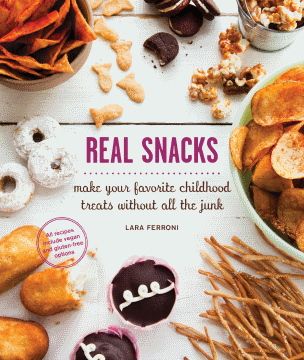 It was as if Ferroni was communing with me directly from the inside flap of her book cover, "Remember the snacks you loved as a kid? Twinkies, Doritos, Cracker Jacks, Cheez-its! So tasty, but so bad for you. What if you could enjoy them without the artificial colors, fake flavorings, and industrial preservatives no one can pronounce? Imagine instead your favorite sweet and salty treats made with fresh ingredients and using whole grains, natural sugars and real flavorings – and easily made in your own kitchen."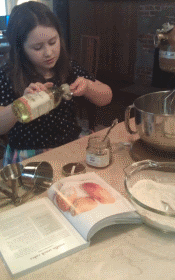 So instead of ordering a case of Twinkies on eBay, I wooed my nine-year-old daughter Amelia into the kitchen with me with the glossy photo on page five of Real Snacks that featured the recipe for Vanilla Snack Cakes.
Ferroni writes, "These crème-filled chiffon cake snacks, made with real, unprocessed dairy and eggs and whole-grain flours, won't last nearly as long as preservative-laden Twinkies, but you will almost certainly gobble them up in no time at all."
When you think "healthy Twinkie" you might think, complicated. Which I'll admit crossed my mind at first. However, a simple introduction, followed by a list of defined ingredients and you're off to the races. Throughout the book, Ferroni offers ingredient alternatives such as the do-it-yourself Twinkie molds.
Which Amelia quickly renamed to "Twinkie Cribs" as she framed little beds out of spice jars and foil.
"These are good!" Amelia exclaimed after her first bite.
I was tentative. Unlike her mother, Amelia hadn't grown up eating Twinkies… so the bar for me was set much higher.
I flipped the golden log over, searching for the bottom hole where we had piped in the homemade whip cream made from coconut oil instead of beef suet.
Would they taste anything like the delicious processed logs I so enjoyed as a kid?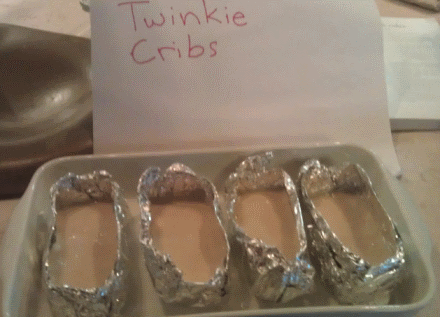 Of course I will always cherish my Twinkie memories…but spending an afternoon in the kitchen with my kid making "Twinkie Cribs" and teaching her my technique for sucking whip cream out of a non-processed treat that we baked together—there's no comparison!