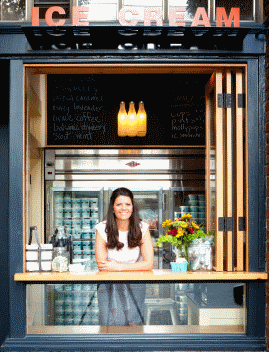 I have this vivid memory of watching Andy Rooney as a kid on 60 Minutes making homemade vanilla ice cream with his grandson. He poured heavy cream, milk, sugar, and vanilla extract into an old-timey contraption and surrounded the mixture with hunks of ice and rock salt before grinding a crank.
Of course, Andy did his usual satire about how idiotic people can be about trivial, common sense things like how simple it is to make ice cream and how society messes it up by over complicating it.
Still, the tenderness for his grandson as he handed him the ice cream machine's churning device covered in a dreamy, cloud-colored vanilla ice cream made an impression that day. I remember wishing I had a grandpa or someone special to make ice cream with.
These days I love cooking all kinds of things with my four kids. As a journalist and culinarily creative mom, it's our thing to go cookin' and trippin' around the Pacific Northwest.
But I'll admit I've never had the "scoops" to make ice cream. Andy Rooney was crazy about old fashioned vanilla ice cream and how simple it was to make — but it didn't seem that simple to me. It seemed like the kind of thing that required an elder to show you the time-honored tradition.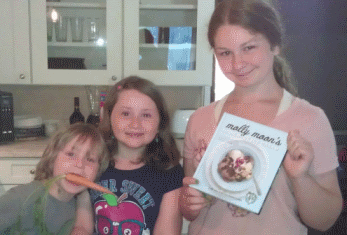 I had a political point to prove with my favorite dessert. That I could run a business that embodied all of my political values, like living-wage jobs, environmental responsibility, and good health insurance for worker, and that those concepts and making a profit were not mutually exclusive.
"Molly Moon Nitzel has five ice cream shops and a signature blue ice cream truck that have been recognized for bringing fun, locavore ice cream flavors to the Pacific Northwest."
"Molly Moon's has been hailed as one of the best ice cream brands in the United Stated by Bon Appetit, Sunset, Food & Wine, and Travel+Leisure magazines."
Armed with Molly's fun and colorful new book (co-written with Christina Spittler), we skedaddled into the minivan with a devil-may-care excitement, anxious to go source some local ingredients for our summer homemade ice cream adventure.
Our first stop was our local thrift shop.
Though I appreciate all the fancy gadgets on Food Network, as a home cook with four kids I've had great luck sourcing cookware at the local Salvation Army, St. Vincent de Paul and Value Village.
I was pretty confident that I'd find an ice cream maker alongside all the abandoned but well-intentioned juicers, George Foreman grills, popcorn poppers, quesadilla makers and waffle irons.
After four thrift stores, thirty miles, and three hours later we had a bunch of fancy glasses to serve our ice cream in, ten toy dinosaurs, a rake, rain boots, a mountain of books… basically everything but an ice cream maker.
We were sitting in the car planning our next move. My girls, eight-year-old Amelia and 12-year-old Sophie, were flipping through the glossy pages.
My eyes were transfixed by the glossy pages filled with beautiful-looking spoons, bowls and cups of ice cream, but the fresh ingredients were the real stars of the book. Molly features local and organic ingredients whenever possible in her ice cream.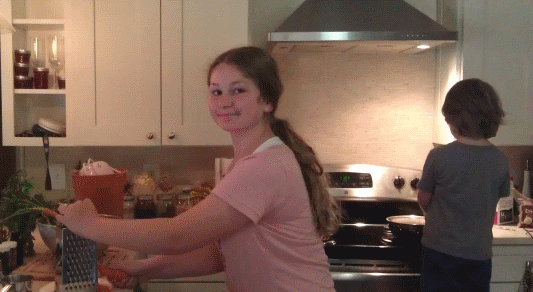 "Let's make strawberry ice cream! Mom, can we go pick the strawberries at the local strawberry patch!" My daughter Amelia asked.
"No, I want to make either Salted Caramel, "Scout" Mint, Maple Walnut, or Cherry Chocolate Chunk." Sophie said.
"Scratch that… Can we milk goats? There's a recipe on page 10, it's called Blueberry Goat's Milk Frozen Yogurt!"
"Yeah, let's go milk some cows!" The girls cheered.
"I'm getting kinda hungry." My four-year-old son, Patrick, piped in from the back.
"Can we just go get ice cream at Dairy Queen?"
Sitting there I thought of Andy Rooney. I could see him shaking his head, clucking in disgust. His famous overgrown eyebrows brooding. I knew what he would be thinking… "You're already over complicating the ice cream and you still haven't gotten the machine."
Although it's romantic to "source" all the ingredients… as it turns out we wouldn't need to drive to a farm two hundred miles away. Or drive twenty in the opposite direction for the strawberry patch. Local milk and cream are available these days at most superstores as well as organic sugar, vanilla beans, strawberries, crushed ice, rock salt and even the ice cream maker on sale for 19.99.
In homage to watching Andy and his grandson all those years back I made sure our first batch was Molly's Vanilla Bean recipe.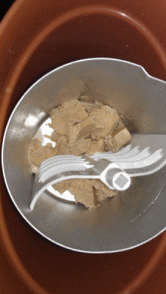 And by early evening we had ice cream.
Store-bought ice cream, flavor-wise, is like watching the beginning of the Wizard of Oz in black and white. One bite of Molly's Vanilla Bean ice cream and suddenly you're in this magical Technicolored land called Oz.
We were having so much fun we proceeded to make ice cream all week.
A congregation of neighbors and family stopped by to try our ice cream — Molly was right about the power of ice cream as a catalyst for community… you just naturally want to lick and share it with other people.
But Andy was right too, homemade ice cream should never be overly complicated. Then again, Andy never tried Molly Moon's Carrot Cake Ice Cream.
And with great pleasure I handed my kids the churning device "Andy Rooney" style, and, like his grandson, my kids and I took turns taking a lick.
Cold, creamy, velvety texture that was tangy from the cream cheese, sweet and carroty, a spicy magic carpet ride of flavors — ground cloves, cinnamon and ginger.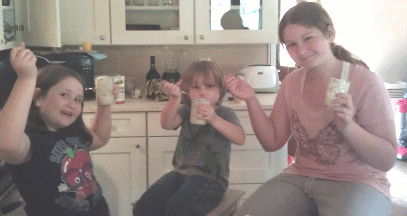 "That's what's so special about Molly." I said.
This summer the kids and I are hosting a cooking-with-kids web series at IKEA. IKEA is a great sponsor of cooking-with-kids and community events that bring people together. Stay tuned for episode two that will feature an ice cream demo with Molly Moon.
---
Molly Moon's
Carrot Cake Ice Cream
2 cups heavy cream
1 cup whole milk, divided
¾ cup packed light brown sugar
Pinch kosher salt
1 1/2 cups finely grated carrot (about 3 medium carrots)
1 teaspoon ground cinnamon
¼ teaspoon nutmeg
1/8 teaspoon ground cloves
4 ounces (1/2 cup) cream cheese, at room temperature
1 teaspoon vanilla extract
Put the cream, ¾ cup of the mild, and the brown sugar, salt, carrots, cinnamon, nutmeg, and cloves into a small, heavy-bottomed saucepan. Cook, uncovered, over medium heat, stirring occasionally to dissolve the sugar. Bring to a boil, then reduce the heat to low and let simmer gently for 20 minutes, stirring frequently to prevent scorching.
In a medium bowl, whisk the cream cheese and vanilla together until completely smooth. Gradually add the remaining ¼ cup milk, 1 Tablespoon at a time, whisking vigorously until smooth after each addition. Pour the cream cheese into the carrot mixture and whisk until thoroughly combined. Pour the mixture into a shallow pan or bowl and refrigerate to chill thoroughly, 1 to 2 hours.
When the mixture is cold, pour it into an ice cream maker and process according to instructions. Using a rubber spatula, transfer the ice cream to an airtight glass or plastic freezer container. Cover tightly and freeze until the ice cream is firm, at least 4 hours.